The Cheerful Soul

*  06-11-2005
† 09-21-2017
Euphrosine (= Greek: mirth) came to us in August 2005. Sine, as her name suggests, was an open-minded cheerful dog. She was very exploratory. Furthermore, you could see contentment on her face at all times.
By adopting Euphrosine from a Dual Purpose litter, our family grew and now had another female Golden Retriever from the kennel Of Chestnut Tree.
In addition to her joyful character and excellent coat, Sine also had an outstanding ability to retrieve. She was a good marker, keen on using her nose, and reliably applied learned skills.
Sines basic training was more hunting related. Since I would like to go hunting down the road, I continued with Sines training including marking concepts, casting, tracking, and quartering.
Our "Madame Plush" was also quite a water lover, though she rather liked "long time swimming" which means, Sine would endure swimming up to 20 minutes at a time.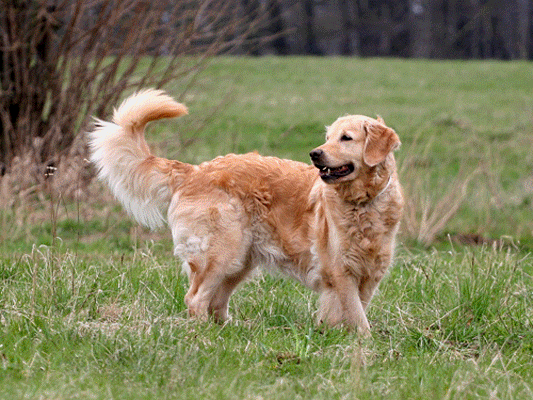 In the summer of 2010, Sine had her first litter. By keeping Mystic and Chester from the litter of six puppies, we increased our Golden Retriever pack. I hope to successfully continue and enhance the original breeding line Of Chestnut Tree.
In September 2017, at 12 years of age, she passed away peacefully. We will always remember her joyfulness and keep her in our hearts.