HR TQ Essex MH WCX
Miss Speedy
Taking Essex home in the spring of 2009, we consciously decided to choose a female Golden Retriever from a performance dog line.
Raising and shaping a field trial Golden Retriever had been a wish of mine for a long time. The idea of training my own dog thoroughly from the very beginning, matured in my mind when I was working with our two dual purpose dogs.
Essex is a lively bundle of joy and a lovely small hightail girl. She is as fast on land as in water and she is quick to learn new things. She is also very attentive and she always tries doing everything correctly.
Essex's passion is to retrieve. Therefore, she has an extraordinary Will To Please and a unique working style. Essex is steadfast in her task, she is an excellent marker, and she is full of energy.
In 2010, we ran a few "Workingtests" in Germany and Austria. Furthermore, we passed the "APD A" test (the beginner's field test in the DRC e.V.).
With our change of residence to the USA, we had the opportunity to learn the US Hunt Test and Field Trial game. In the summer of 2012, Essex received her first AKC title: Junior Hunter, passing four legs in a row. In the fall of 2012, she won the Southern Berkshire GRC Advanced Singels Stake Field Trial. In the spring of 2013, Essex came in first place in the Yankee Waterfowler's HRC Singles Championship.
In 2014, we moved up to the next level. Essex passed two Senior hunt tests and completed her Senior Hunter title in the spring of 2015. In the same year, Essex also earned her HRC Seasoned title.
In 2016, we started to run Essex in Master/Finished tests. She completed her Master Hunter title and earned the qualifications for the 2017 and 2018 Master Amateur Invitationals of the new established Master Amateur Retriever Club.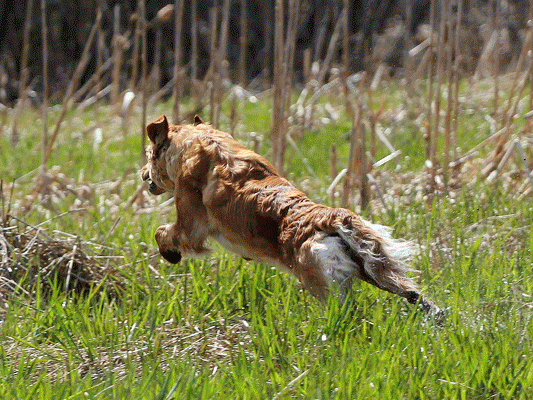 In late fall of 2013, we had with Essex our second litter, from which we kept Rocket hoping to successfully continue and enhance Essex' extraordinary retrieving ability.
In March of 2017, Essex whelped our fourth litter sired by the very talented field trial Golden Retriever Firemark Gunsmoke's Lawman "Dillon", who won the Open Field Trial stake at the Golden Retriever Club of America's Specialty in 2017,